Day 7 - (August 28th, 2014)
We awoke to one of the best Irish breakfasts we had on the whole trip. This 70 year-old inn-keep did everything at the B&B and definitely knew what he was doing. We knew it was going to be a long day so this solid base was a huge help.
Immediately after we set off from Kenmare, the views were amazing along the water on these tiny roads. Jason and I could not believe that the speed limit was basically 100 km/h the whole way on the Ring of Kerry. Considering we were in a severely underpowered Skoda, we could hardly get to 80 km/h while maneuvering these meandering roads. I was definitely thankful to not be cycling this part of the trip as we passed enough Audis and BMWs flying through the turns to temper my desire to ride on a shoulderless road without enough space to have two SUVs pass each other.
Since pictures can tell a thousand words, I defer to our humble slideshow to hope to capture a fraction of the magnificence of this drive: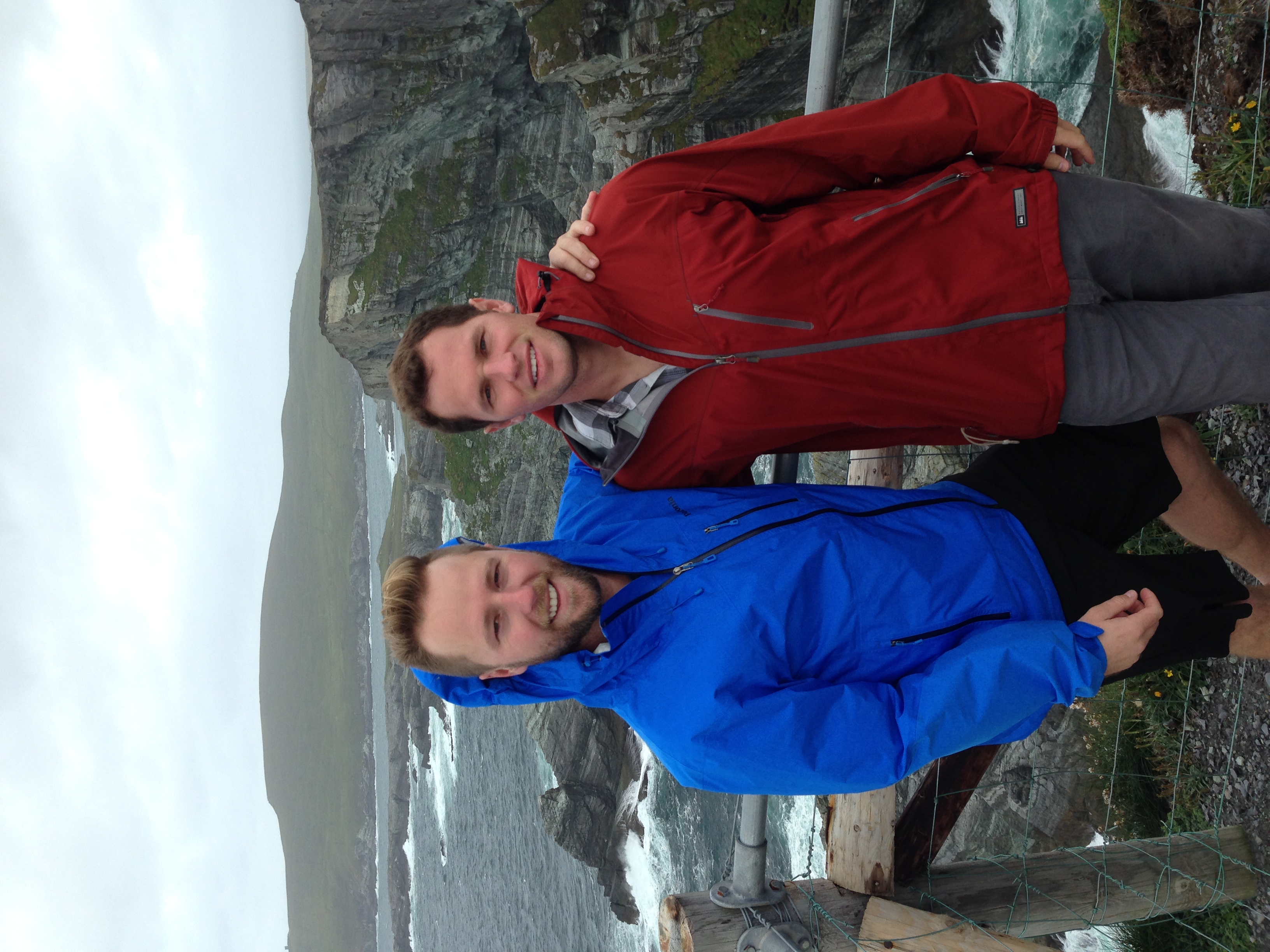 The one vexing potion of the Ring of Kerry was that a greedy and useless landowner capitalized the most beautiful vista on the whole drive. Due to the fortunate labors of his ancestors, this individual fenced off a large swath of land right at the crux of the Ring of Kerry where you would see the immense cliffs and chain of islands in the distance. He was therefore able to collect a beauty tax of 4 euros from everyone who passed. Being the salty individual I am, I asked the man running the entry booth what we got for this fee of 4 euros each. With a straight face, he stated it was to ensure that we had "safe" parking. In the time that we toured the grounds and took pictures, maybe 45 minutes, at least 200 people paid that 4 euro fee, and all in cash! What a golden goose! Jason and I estimated that on the low end (this was not peak season by any means) this ridiculously fortunate landowner had revenues of 8,000 euros per day and only had to pay one ticket taker minimum wage all day!
Anyway, I shouldn't let a little monopoly get me down, as there was still so much ahead of us. We had lunch in Portmagee, which we both agreed had the best fish and chips of our trip so far. We continued to meander up the Ring and finally made it back to Adare Manor after a beautiful and exhausting drive.
Luckily for us, once we got to the castle, all of our Princeton friends had time to settle in, so we headed straight to dinner and drinks. If either of us stalled for too long, we probably would have crashed hard.
While the wedding party was busy with their rehearsal dinner and walkthrough, our motely crew got pissed at a local bar/restaurant only steps from the castle. After we had build up quite the solid buzz, we headed back to the castle for drinks with the whole crew.
I don't think the hotel staff was prepared for the onslaught this Irish/American party was about to unleash on them as they constantly referred to us as trouble… I made it a point to meet as many different groups of new friends as possible to gauge if my antics of the next day would be deemed suitable, or just belligerent. After meeting a whole host of wonderful people who were hell bent on getting as rowdy as I was, I knew the next few days would be a SAVAGE CRAIC!
The night ended somewhat early for an Irish gathering, around 2am, as we all knew there was much to come tomorrow. Also, events started at 10am so there was no rest for the weary.