Day 8 - (August 29th, 2014)
I had no doubt in my mind that we would all miss breakfast in the morning after the first of many wedding CRAICs… Further, since I was one of the few people who had a car and was not already running around with my head cut-off with pre-wedding events, I was summoned to make a run into town to grab a bunch of tuxedos.
Without much dilly-dally, Cosmo, Blake and I sped off to town to get everything sorted. Since most all of us had the same rented tuxedoes, there was not much more we had to do to get ready than just put them on. Not much latitude for style points but since I would have to carry my tux across Europe on my bike, there was no way I was going to bring my own.
We all met up at the hotel bar, naturally, about an hour before the buses left and built up a good lather to prepare for this wonderful ceremony. The bus ride from Adare Manor to Limerick took much longer than expected, as there was a ton of tourist traffic along the one lane road into town. I knew this was not a good sign for the wedding to start on time but how many actually do?
Kelly's family had ancestral ties to beautiful St. Joseph's Church in Limmerick where the ceremony was to be held. When we entered it almost felt like a homecoming for their extended family as the pastor greeted each individual as part of the family.
The ceremony was absolutely beautiful and I have never seen a happier groom on his wedding day. No joke, he looked like he had won the lottery the whole time. Rightfully so considering that this one-time house retard and Panamanian hostel owner was about to marry the beautiful, successful, hilarious, and down-to-earth Kelly Whelan. In all seriousness, Turkey Juice, you are the best and you deserve everything that comes your way! Love you man!
Tears proceeded to fall all across the pews after they said their I do's and in traditional Irish fashion, everyone was ready to get drunk.
The ceremony immediately poured out into the Limerick streets as we made our way to the pub conveniently located across the street. Irish churches are funny this way, as it seems like few are located too far from local watering holes. Guess it's easier to repent when the church is conveniently located next to where you sinned the night before. Smart more Ireland…
TJ and Kelly did not wait long before manning the Guinness taps behind the bar. They seemed like trained professionals back there as their talents were most likely honed at Montu Taitu.
We all had a few drinks before the buses gave us just a couple minutes notice before we had to leave. In the rush, I left my GoPro at the corner store as I was grabbing a sandwich to hold me over till dinner. Just before the bus pulled away, I realized my error and sprinted back to find, much to my luck, that one of Kelly's distant relatives had grabbed it and was going to bring it to the manor. Seriously, there are no more helpful, friendly and open people on this planet than the Irish!
Crisis adverted; we arrived back at the manor and were welcomed with appetizers and copious amounts of free drinks. It is at this time where Kelly's side of the wedding party started to realize that TJ's cheeky American friends were ready to embark on a SAVAGE CRAIC even though many of us still didn't know what that meant.
Right before we were called up to dinner, the manor put on a show hosted by its resident falconry team. There were 9+ raptors on display, which we could all "hold," but the belle of the ball was a juvenile bald eagle named Freedom! Obviously they get a lot of American tourists. Freedom was flown around giving ½ the wedding group a much-needed dose of patriotism in this far away land.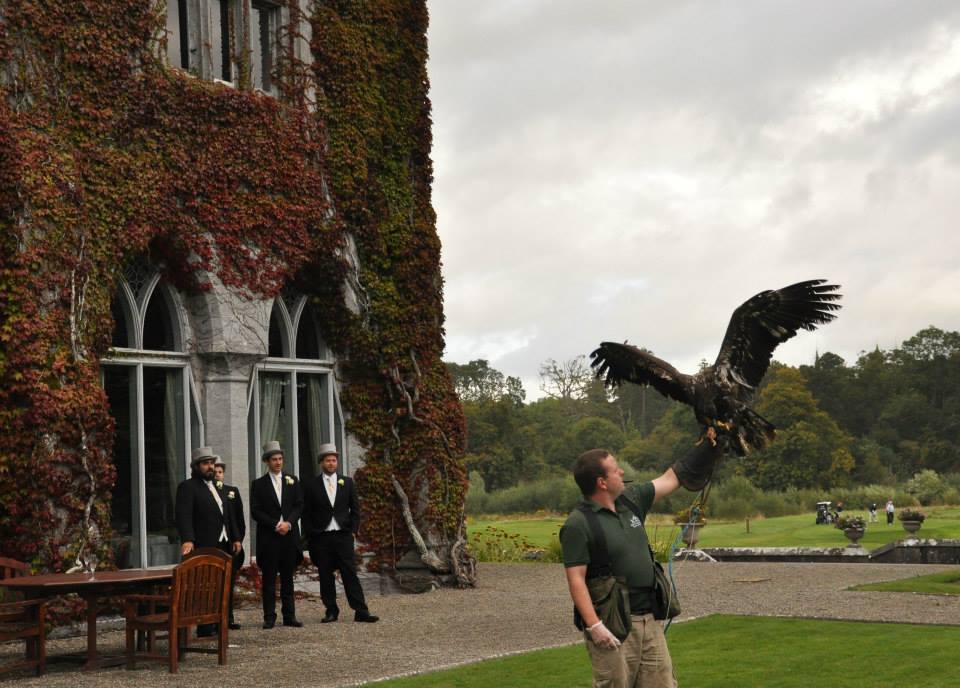 The dinner bell was rung right after this Freedom display and we were whisked away to the immaculate dining hall. As expected, I am seated at the rowdy stag table. Typecast as I am, I figured why let them down, so it was time for some drinks.
After a few baby Guinness shots with the wedding party, I met Jamie MacKay, who is engaged to Kelly's sister, Eilbhe. After his initial frustrations surrounding how many times I refer to his coin purse (he is Scottish so was wearing a kilt with a very ornate fanny pack looking belt), he offers me some fine Scotch he brought in his flask. There isn't much left so I bet him I can get it refilled for free at the bar. Considering its not an open bar anymore he calls me crazy and I agree with him. Little does he know, all I have to tell the bartender is that it is for TJ since he doesn't like wine and cant get up from the table. The bartenders fill up this flask the whole night for free even though they realize halfway through that I am lying.
I have been to quite a few weddings over the years yet this one was quite unique in how both sides, most of whom had never met one another, unified so perfectly under the banner of getting pissed. The dance floor was mobbed throughout the night and we only stopped to take baby Guinness shots together… 40+ at a time! (A baby Guinness shot, if you haven't had one, is a shooter composed of coffee liqueur and Irish cream that is crafted to perfectly resemble a small Guinness).
Since "Shout" was forbidden from the playlist, "Zombie" was played instead. While it's not the best song to dance in unison to, at that point we were all happy to scream the words to that 90s power ballad till our lungs bled.
WHAT AN AMAZING WEDDING RECEPTION!
Like all good weddings, it didn't end there and those who still were searching for the most savage craic headed to the basement bar of the manor. By that time we were all pretty pissed and must have requested Zombie to be played another 5 times. Finally the bar had enough of us and we went to another after, after party in Liz Comerford's room, one of Kelly's bridesmaids. We all partied for another many hours until I had to stumble back to my room.